Best-in-class biopharmaceuticals
Our best-in-class products include processing aids like our flagship product Kolliphor® P 188 Bio.
BASF Pharma Solutions has a long history supplying excipients for human therapeutic drug formulation, including our Kolliphor® P 188 Bio, HS-15 and Kolliphor® ELP, all of which have a history of safe use in parenteral medicines.

Our goal is to supply the biopharmaceutical manufacturers with stable, transparent commercial supply of our raw materials. We support the set-up of our products in your system, from label pictures and packaging information, to product numbers, lead times, samples and pricing.

Get started using our Virtual Pharma Assistants, and contact us at any time.
RegXcellence®
Make quality and regulatory compliance a breeze
Find the quality and regulatory information you need with a document library, filing assistance and global or country-specific compliance support.
Sign up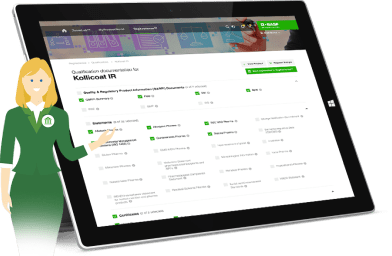 Solutions for multiple markets
BASF's Biopharma Ingredients serve a variety of markets, from cell and gene therapy to bioprocessing and formulation of proteins, vaccines, and antibodies.
Kolliphor® P 188 Bio
Compendial name
polyoxyethylene-polyoxypropylene, alpha-hydro-omega-hydroxypoly(oxyethylene)a poly(oxypropylene)b poly(oxyethylene)a block copolymer, Polyethylene-polypropylene glycol, Poloxamer 188
Region of Manufacture
USA
Package Size
0,5KG Plastic bottle
102KG Plastic drums
12,5KG Plastic pail
25KG Plastic drums
5KG Plastic pail
More info
Product Finder
Looking for a product? Use our product finder today!
Looking for a product?
Use our product finder today!
Search through our broad portfolio of products and find the solution for your application.
Find a product now
Get In Touch
Have questions about our products and services? BASF's team of experts is here to answer all of your questions.